Facials | Chemical Treatments | Piercings
Skin Loft hours: Tuesday – Saturday 11-5
Facials
Herbal Facials Available !!!
Rejuvenate skin while taking an all natural alternative to medicated facial products. By using signature products custom made form organic herbs.
EXPRESS FACIAL | 30 minutes ~ $25
First we cleanse and exfoliate. Next your customized mask is applied along with hot towels finished with appropriate moisturizer and spf (Does not include massage)
SONIC DEEP ACNE CLEANSE
(Medicated products used) | 30 minutes ~ $35
A deep cleanse followed by a course exfoliating session. Skin will be ready for extractions after which the Sonic Skin Scrubber will employ a variety of currents. To produce vibrations with a frequency of 28000 times per second. To penetrate skin and activate pores underneath. Perfect before a glycholic peel
SPA FACIAL | 45minutes ~ $50
Our Spa facial begins with a cleanse, followed by the appropriate exfoliant for your skin. We will then apply steam and perform extractions if needed. After your facial massage, the therapist will apply a customized mask, followed by the appropriate moisturizer and spf to complete your service.
SONIC ANTI-AGING FACE LIFT | 1 Hr~ $75
Beginning with a cleansing routine, followed by an exfoliating session to remove debris. Skin is then prepared for extraction, and is then ready for massage. Facial mask with steam to open pores. Then Ultra Sonic therapy is introduced to penetrate pores with anti-aging serum applications. So every serum used is working at a deeper level and becomes more effective. While delivering up to 3 million vibrations per second to tone muscle areas around eyes, lip, chin, jowls and neck.
BACK TREATMENT | 30minutes ~ $45
Created especially for those hard to reach places this treatment begins by double cleaning the surface with a medicated toner followed by a deep pore exfoliation to remove dead skin and debris.Skin for extractions.
DIAMOND MICRODERMABRASION (Crystal-Free)
is a gentle exfoliation that is performed with a diamond-encrusted applicator tip. The tip passes over the skins surface, and creates a gentle vacuum. The diamond tip gently exfoliates approximately 20-25 microns of dead skin cells of the outermost layer (stratum corneum). Once removed, it reveals oneís own fresher, younger looking skin beneath. Reduces fine wrinkles, acne scarring and lightens sun spots.
This treatment is meant to be progressive not aggressive. . After the first session the skin will appear fresher, cleaner, smoother and softer for some clients. Usually treatments are performed every 4 weeks, but can be done more frequently. A typical course of treatment is a series of six Microdermabrasion sessions.
DIAMOND PACKAGE
(Includes facial cleans, exfoliating session and cool down period finishing light moisturizer and SPF)
Treatment Schedule
Diamond in the Rough
Keep Going
Savings
1/2 Way Session
Bling
One More
Regular:
$90
$90
$90
$90
$90
$90
Total: $540
Diamond in the Rough
Prepaid Discount:
$90
$75
$65
$60
$55
$50
Total: $395
You save $145
Chemical Treatments
Chemical peels are one of the top five non-surgical procedures that are sought by Americans each year. In 2003, more than 722,000 people underwent chemical peel treatments in the United Chemical peels are so popular because they can delivery satisfying results with little risk of complications.
Chemical Peels should be applied by a Medical Esthetician, Dermatologist or Certified Professional.
LACTIC
Lactic Acid is derived from† milk, and is much milder on the skin versus Glycolic and Salicylic peels. Those with sensitive skin can apply this peel. If this is your first peel and you have sensitive skin, you may begin with lower percentages (10% – 30%)
GLYCOLIC
Glycolic peel uses alpha hydroxy acid derived from sugar cane to remove the top layer of dead skin cells. Glycolic acid peels in concentrations of 20 to 30 percent are applied by an aesthetician.
Results: Unlike Glycolic and Lactic Acids which are gradual peels, using a Salicylic peel may cause visible peeling that can last up to 3 days.
SALICYLIC
Salicylic Acid works by gently removing old cells from the skin allowing it to be replaced with healthy skin; boosts collagen production and in turn balances oil production (less acne and blemishes); and lessens the appearance of wrinkles and fine lines.
Salicylic Acid also has an anti-inflammatory effect. This acid is able to penetrate the oily material blocking pores and flush it out.
TCA
TCA peels are medium depth peels, ranging from 8% to 30% strengths. Though their concentrations might not be as high as other chemical peels, TCA peels are considered much deeper peels than lactic acid and glycolic acid peels.

Body Piercing – 24 hour notice required
13 is proud to welcome body artist Dana Burnidge to the Skin Loft a Certified Licensed Professional with over 6500 piercing procedures completed. An expert in his field and a knowledgeable consultant.
All procedures are done using 100% disposable tools nothing gets re-used or recycled. (Premium body jewelry included with piercing.)
MICRO-DERMAL ANCHORS
(Our anchors are Titanium)
1 Dermal – $70
2 Dermal- $140   –  15% OFF After 3 Dermals
3 Dermals $210
FACIAL PIERCINGS
Nostril with Stud or Hoop $50
Septum with Circular Barbell $56
Vertical Eyebrow with Curved Barbell $53
Horizontal Eyebrow with Curved Barbell $55
Bridge of the Nose (Erl) with Barbell $53
ORAL PIERCINGS
Tongue with Barbell $55
Labret with Stud $55
Lo-Bret with Stud $60
Web (Sublingual Frenulum) with Barbell $76
Smilie / Frownie (Interlabial Frenulum) with Hoop $50
Dimples with Studs $97
Medusa (Philtrum) with Stud $60
Monroe with Stud $55
Lip with Stud $55
Horizontal lip with Curved Barbell $76
Vertical labret with Curved Barbell $60
Snake/spider bites with Stud $97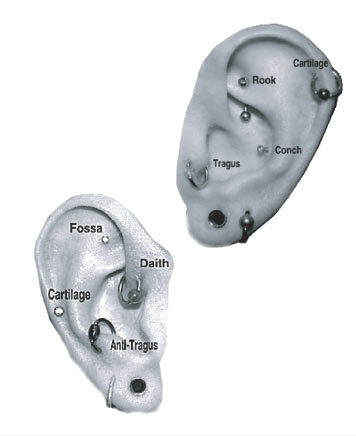 EAR PIERCINGS
Earlobe with Hoops $30 /$50
Snug – Helix – Scaphia – Fossa with Hoop or Stud $55
Rook / Tragus / Anti-tragus with Hoop $45 [with Stud $52]
Both Traguses with Hoops $75
Daith with Hoop $55
Conch with Hoop $50
Industrial with14 or 16 Barbell $64
Orbital with B14/16g Jewelry $60

TORSO PIERCINGS
Vertical navel with Gemmed Barbell $55
Horizontal navel with Barbell $62
Exotic Placements Available Upon Consultation!!!